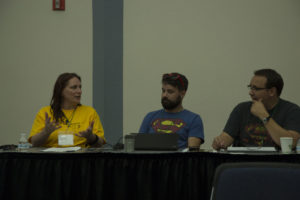 We are now accepting proposals for presentations at Doxacon Seattle 2024!
A presentation could be any of several things: a talk given by one speaker, a panel discussion, a workshop or hands-on activity, a one-shot gaming session, and more! Our theme for 2024 is "At the End of All Things: Utopias, Dystopias, and the Persistence of Hope," and we are looking to build a unique, delightful, engaging event around our theme.
Does every talk or activity have to be focused on the theme? Absolutely not (although we may give priority to proposals that are particularly on-theme). What we DO ask is that every talk or activity be suited to our identity as a convention: a group of geeks exploring the intersection between fandoms and various expressions of the Christian faith.
If you're interested in submitting a proposal, please click here for more information and guidelines, or email submissions@doxaconseattle.com with any questions.