We can't let a pandemic hold us back! We're hosting Doxacon Seattle 2021: Prophecy and Prediction online through Zoom this year. Tickets will be at a reduced price (because tech is cheaper than a room and food), and we'll send you details soon. And we're looking for presenters. See below for our Call for Submissions!
Stay tuned for registration information!
This Year's Artwork!
Voila! Introducing our new artwork for Doxacon Seattle 2021, by the wonderful Reece Friesen! Reece has provided us with original artwork for the past several years, and is the author and artist for Pax Avalon, a Christian-ethics-themed graphic novel series. Check out his work at paxavalon.com.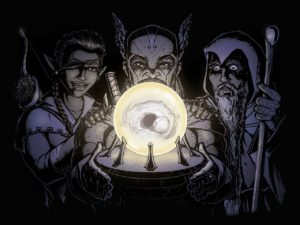 Call for Presentations!
We want to hear from you!
Are you interested in presenting at Doxacon Seattle 2021? Do you have an exciting idea you'd like to share? Check out our submission guidelines to find out how you can submit a presentation proposal to be a speaker at Doxacon Seattle 2021.
Step 1: Make sure you have January 30, 2021 free!
Step 2: Summarize your idea in a couple of paragraphs. Check our submission guidelines for details
Step 3: Send your submission to submissions.DoxaconSeattle@gmail.com by December 1, 2020 at Midnight
Check out Doxacon Prime!
Our sister convention Doxacon Prime, which was the inspiration for Doxacon Seattle, is coming up on November 6–7! Check them out!